Khyaal Karlo Lyrics by Chetan is the Latest Punjabi song sung by Chetan, and this brand new song is featuring Isha Sharma. Babbu pens down Khayaal Karlo song lyrics while Akash Jandu gives music, and Sandeep Sharma directs the video.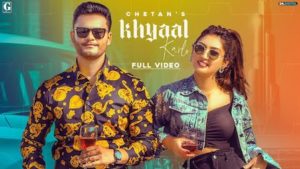 Khyaal Karlo Song Details :
Song: Khyaal Karlo
Singer: Chetan
Lyrics: Babbu
Music: Akash Jandu
Label: GeetMP3
Khyaal Karlo Lyrics
Tere Kolo Kudiyan Nu Ban Kari Phirdi..
Kinniya Nu Teri Ve Main Fan Kari Phirdi..
Tainu Mera Naam Vi Ni Pata Marjaneya
Main Tera Birthday Plan Kari Phirdi..
Gall Baat Sadde Naal Karlo
Malko Sadda Vi Khyaal Karlo
Lai Lo Number Te Call Karlo
Kade Sat Shri Akaal Karlo
Malko Sadda Vi Khyaal Karlo
Morh'di Aayi Haan
Ajj Tak Gall Sab Di
Chandigarh Phiran
Babbu Gaddi Teri Labhdi
Kade Thodde Kol Re Jaiye
Gaddi Vich Beh Jaiye
Haan Karo Thonnu
Kade Dinner Te Le Jaiye
Plan Sadde Naal Karlo
Malko Sadda Vi Khyaal Karlo
Lai Lo Number Te Call Karlo
Kade Sat Shri Akaal Karlo
Malko Sadda Vi Khyaal Karlo
Ohi Pee Jaavan Tainu
Coffee Jo Pasand Hai
Raatan Nu Vi Gharon
Hunn Jaana Kitta Band Hai
Tu Jadon Milan Balauna Ae
Main Makeup Ni Launa Ae
10 Minute Lagne
Mohali Ton Hi Auna Hai
Kade Check Sadda Haal Karlo
Malko Sada Vi Khyaal Karlo
Lai Lo Number Te Call Karlo
Kade Sat Shri Akaal Karlo
Malko Sada Vi Khyaal Karlo
Tainu Vekh Ke Hi Sarna
Main Thoda Thoda Darna
Je Tu Mainu Pucheya
Ke Order Ki Karna
Ji Bas Simple Jehi Daal Karlo…
Malko Na Na Na Na Na
Na Na Na Na Na Na
Na Na Na Na Na Na
Khyaal Karlo Music Video