Hola Chica Lyrics from Alludu Adhurs is shiny new Telugu tune sung by Jaspreet Jasz and this most recent melody is including Bellamkonda Sreenivas, Nabha Natesh. Hola Chica melody verses are written somewhere around Sreemani while music given by Dsp and video is coordinated by Santosh Srinivas.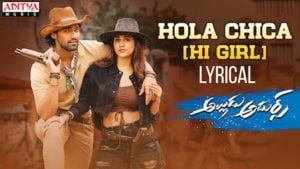 Hola Chica Song Details :
Song: Hola Chica
Movie: Alludu Adhurs
Singer: Jaspreet Jasz
Lyrics: Shree Mani
Music: DSP
Starring: Bellamkonda Sai Sreenivas, Nabha Natesh
Label: Aditya Music
HOLA CHICA LYRICS
Hola Chica Hola Hola Chica
Hola Chica Hola Hola Chica
Hola Chika Hola Hola Chika
Hola Chica Hola Hola Chica
Hola Chica Naa
What Nonsense?
Hello Pilla, It Make Sense
Hola Ante Hello
Chica Ante Pilla
Ee Matram Daniki Telugu Lo Ante Pola
Telugu Lo Ee Word Chaala Vaadesaru
Andukani Saaru Spanish Lo Dhigaru
Hola Chica Hola Hola Chica
Hola Chica Hola Hola Chica
Hola Chika Hola Hola Chika
Hola Chica Hola Hola Chica
Ayidhella Vayasappudu
Aishwarya Rai Ante Ishtam
Hola Chika Hola Hola Chika
Hola Chica Hola Hola Chica
Tharvatha Inkeppudu
Chudaledu Nenantha Andham
Hola Chika Hola Hola Chika
Hola Chica Hola Hola Chica
Innaallaku Chusinanu Ninne
Hola Chica Hola Hola Chica
Statue La Stun Aindhi Kanne
Hola Chika Hola Hola Chika
Itta Etta Puttinaave Abbo Abbo
Ninnu Pattakunte Gunde Labbo Dibbo
Hola Chica Hola Hola Chica
Olamo Nuvele Na Magic Aa
Hola Chika Hola Hola Chika
Hola Chica Hola Hola Chica
Hola Chica Hola Hola Chika
Pattai Ve Na Love'u Negga Chika
Hola Chika Hola Hola Chika
Hola Chica Hola Hola Chica
Haa Rating Lona Five Star Unnavadni
Fighting Lona First Rank Pondinodni
Dating Loki First Time Vachinane
Date-Eee Ivvave
Ott Apps Download Chesinaane
Oollni Pubs Touch Lona Vunnav Aadne
New Trend'u Boy Friend'u Ante Nene
Late'u Cheyyake
Aawara Lanti Waani Nene
Hola Chica Hola Hola Chica
Valentine Chesinaave Nanne
Hola Chika Hola Hola Chika
Okka Chinna Namboo Chalu Oppo Appo
Nee Navvu Naaku Ivanante Labbo Dibbo
Hola Chica Hola Hola Chica
Olamo Nuvele Na Magic Aa
Hola Chika Hola Hola Chika
Hola Chica Hola Hola Chica
Hola Chica Hola Hola Chika
Pattai Ve Na Love'u Negga Chika
Hola Chika Hola Hola Chika
Hola Chica Hola Hola Chica
Avengers Thor Merupu Shot Kottinattu
Match Last Ball Sixer'esi Baadinattu
Na Dil'lu Thoti Aadukoke Ishtamochinattu
Prema Panchave
Plug'u Lona Velu Pedithe Okkasare Shock'u
Oora Chuputhoti Vandha Shock Livvamaku
Naalaanti Vaadu Inka Dhorakadu Anta Neeku
Nannu Nammave
School Lone Eela Nerchinane
Hola Chica Hola Hola Chica
Nee Kosam Veyadaanikene
Hola Chika Hola Hola Chika
Nuvvu Yes Ante Life Abbo Abbo
Nuvvu Kaani No Ante Labbo Dibbo
Hola Chica Hola Hola Chica
Olamo Nuvele Na Magic Aa
Hola Chika Hola Hola Chika
Hola Chica Hola Hola Chica
Hola Chica Hola Hola Chika
Pattai Ve Na Love'u Negga Chika
Hola Chika Hola Hola Chika
Hola Chica Hola Hola Chica
HOLA CHICA Music Video
[ad_2]