Group Photoan Lyrics by Gagan Balran is the Latest Punjabi song sung by Gagan Balran, and Nick Dhammu gives the music of this brand new song.  Group Photoan song lyrics are written by Pali Balran and video is directed by Bhindder Burj.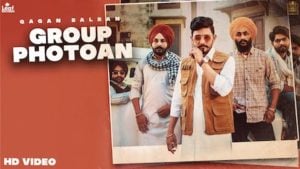 Group Photoan Song Details:
| | |
| --- | --- |
| Song: | Group Photoan |
| Singer: | Gagan Balran |
| Lyrics: | Pali Balran |
| Music: | Nick Dhammu |
| Label: | Leaf Records |
Group Photoan Lyrics
Aukhe Char Panj Bandeyan De Dil Jeetne
Kinneya Nu Utte Thalle Painda Karna
Choost Chalaki Phir Rehndi Side Te
Jado Yaarian De Akhadeyan Ch Hove Badhna
Jithe Ne Tateeri Tap Chhaal Maarde
Othe Bann Ke Record Sadde Dhare Honge
Let's Go!
Check Kari Saddiyan Group Photoan Ni
Jinne Sadde Naal Khade Bande Khare Honge
Check Kari Saddiyan Group Photoan Ni
Jinne Sadde Naal Khade Bande
Shaunk Do Ne Jattan De Puraane Chalde
Lange Dudh Khaas Khaas Da Galan De Vich Di
Eh Ton Bina Gud Lainde Baal Karda
Maare Bottle Awajan Phir Sawa Geeth Di
Teeja Vail Koyi Na Shareer Rakhde
Bhavein Nashe Duniya De Edu Bhare Honge
Check Kari Saddiyan Group Photoan Ni
Jinne Sadde Naal Khade Bande Khare Honge
Check Kari Saddiyan Group Photoan Ni
Jinne Sadde Naal Khade Bande
Rutba Sadda Pind Motor Te
Geda Maari Dikh Juga
Tel Da Kade Kadha Ni Kitta
Jo Bhande Naal Chip Juga
Jithe Sanjha Pee Kha Lainde
Ankhi Ne Jind Dhaa Dinde
Yaari Layi Taan Vadhe Ghate
Jhal Ke Vi Mull Paa Dinde
Yaari Layi Taan Vadhe Ghate
Jhal Ke Vi Mull Paa Dinde
Hit Ae Te Run Wala Ik Vi Ni Bolda
Jinne Case Bolde Zameena Wale Ne
Asle Te Kirchan Di Lod Kithe Paindi
Jadon Pehlan Hi Dimag Magazine'an Wale Ne
Chaah De Naal Unglan Jawak Chatde
Look Wargi De Gijeyan Ch Dale Honge
Check Kari Saddiyan Group Photoan Ni
Jinne Sadde Naal Khade Bande Khare Honge
Check Kari Saddiyan Group Photoan Ni
Jinne Sadde Naal Khade Bande
Rohb Naale Taur Sadde Khoon Vich Aa
Pind Balran Ton Munde Aaye Uth Ke
Mehnat Saddi Ae Jaandi Chaap Chadd Di
Pahucheyan Halataan Di Ni Dhonn Kutt Ke
Diggan Na Ditta Kade Level Yaari Da
Paali Utte Nu Graph Sadde Chadhe Honge
Check Kari Saddiyan Group Photoan Ni
Jinne Sadde Naal Khade Bande Khare Honge
Check Kari Saddiyan Group Photoan Ni
Jinne Sadde Naal Khade Bande
Khare Honge
Group Photoan Music Video
Written by:
Pali Balran
[ad_2]