Home » Hindi » Tu Phir Se Aana
Tu Phir Se Aana Lyrics by Raftaar is Latest Hindi Rap song sung, written, composed and performed by Salim Merchant, Karma, Adrija Sinha and Raftaar. The music of this brand new song is given by Raftaar while video is directed by Aakib Siddique (Black Acid).
buy flomax online buy flomax no prescription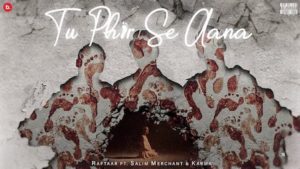 Tu Phir Se Aana Song Details:
Tu Phir Se Aana Lyrics
Tu Phir Se Aana
Bhar Mastakon Pe Le Chale
Jo Pustako Se Door
Panape Jis Zameen Pe
Uss Zameen Pe Maa Bhi Majdoor
Mann Se Nasht Tan Pe Kasht
Raat Khane Mein Hai Choor Sang Lu
Yeh Gareebi Ka Kasoor
Aur Jo Noor Na Banenge
Bache Kood Mein Milenge
Nasoor Se Pale Jo
Kaise Soorme Banenge
Kuch Wo Phool Jo Khilenge
Kuch Ko School Na Milenge
Kuch Ke Paav Do Chilenge
Chup Wo Dhool Me Milenge
Jiske Paet Mein Anaaj Na
Woh Kis Dharam Ka Hai Bhala
Ik Bharam Mein Jeeta Wo Ki
Kab Garam Ho Ek Tawa
Kis Karam Ki Maar Hai
Ahaar Inka Bas Hawa
Na Milti Maa Ko Ek Dava
Pita Sava Me Gumshuda
Ik Dafa Socho Desh Band Tha
Wo Chal Padi 8 Meel Pehle Ghar Se
Gir Ke Dhar Pe Mar Padi
Jeeta Naan Balika Ko
Jeeti Na Jo Ek Kadi
Woh Aafan Hai Ya Jal Chuki
Ye Sochta Me Har Ghadi
Tu Phir Se Aana Muskaan Banke
Mere Ghar Mein Chota Mahmaan Banke
Tu Phir Se Aana Muskaan Banke
Aur Has Ke Jeena Meri Jaan Banke
Banke
Pet Mein Aag Lagi Hai
Par Paani Bhi Toh Paas Nahi
Chote Hain Kadam Kaafi
Jawani Bhi To Paas Nahi
Wo Thak Chuke Itna
Patri Pe Hi So Jayein
Par Sulane Wali
Maa Ki Kahani Bhi Toh Paas Nahi
Jo Ghar Pe Hain Vo Khush Hain
Jo Road Pe Vo Puchein
Ke Ghar Ki Chat Milegi Kab?
Kahan Pe Jaake Lu Chain?
Jab Maa Chhodne Aayi Thi
To Ek Din Mein Pahuche The
Ab Wapas Jaane Mein
Mujhko Lagre Hain Din Kyu 6?
Ab Sab Dhundhla Lagra
Nahi Bachi Hai Taakat
Ab So Hi Jata Hu
Agle Janam Mein Lunga Daawat
Bas Maa Ko Batla Dena
Ki Thoda Door Hi Tha Main
Hawa Mein Khushbu Lele
Milne Tak Lele Raahat
Aur Jo Kehte Hain Ke Marne Par Hum
Ek Lakh Denge
Maano 16 Maut Aayi
Aur Ho Gaye 16 Lakh
Upar Shikaayat Karunga
Ab Wo Hisaab Lenge
Jo Ghar Tak Chhod Dete
To Bach Jaati 16 Laash
Tu Phir Se Aana
Tu Phir Se Aana Music Video
Written by:
Karma, Raftaar
cs!
You may also like…
[ad_2]